Today is my anniversary. After years of begging and pleading my folks finally gave in and bought me my first guitar (Jan. 27, 1986). Mom drove me out to my Aunt Joni and Uncle Barry's house to take a Black Lotus Les Paul copy and a Peavey amplifier off of their hands for 150 bucks. It was maybe the first grown-up thing I ever owned. It may as well have been a Ferrari or a laser gun, it was just that cool to get it.
In guitar playing, it is famously said, you can forget about the first 20 years. There is so much too learn, it takes a ton of time, practice, patience, a real aspiration to learn and a lot of encouragement if you can find it. It takes 20 years just to get to a point where the real music will start to emerge. I've got to say that the longer I play, the more fun it gets. It still challenges me and there is no end to finding new music (or old music). But it's pretty nice when you don't have to think so hard about note names, scales, chords and everything and you begin to just let the music more or less flow. It's a great joy.
The guitar has brought me almost everything in my life. Most of my very best friends come through music and it's an honor to get on stage with great musicians who I can call friends too. I may not have met my wife without music and the guitar. I don't think I would have had so many of the great experiences I've been lucky to have over the years had the guitar not been a part of it.
I've had a lot of great teachers and encouragement from family and friends. Being a musician is not always the easiest life all of the time. Musicians need a lot of support from home and loved ones to be able to do their thing. My students have been my teachers. I've learned so much from them, from the opportunity to share the music with them. I'm grateful for all these amazing people have given me.
The guitar has been my teacher. It's taught me about beauty, pleasure and pain, persistence, patience and discipline. It's taught be about history and style and about working well with others. It's been a reliable friend, companion and therapist for 3 decades. You'd think I'd be better by now! Only my oldest friends and family have been with me longer than the guitar.
I've had some other instruments over the years but that first guitar started it all. I can remember my mom saying "we'd better hear a song or two out of that thing". It's good to remember that. I'd better get to practicing.
Music and the guitar are a big part of my life. That's the way I'd always hoped it would be. That's a blessing. I think everyone should play. Play just a little something. There's joy in it.
Thanks to my family, friends, fellow musicians, students, teachers and encouragers for the first 30 years. And now… back to the woodshed.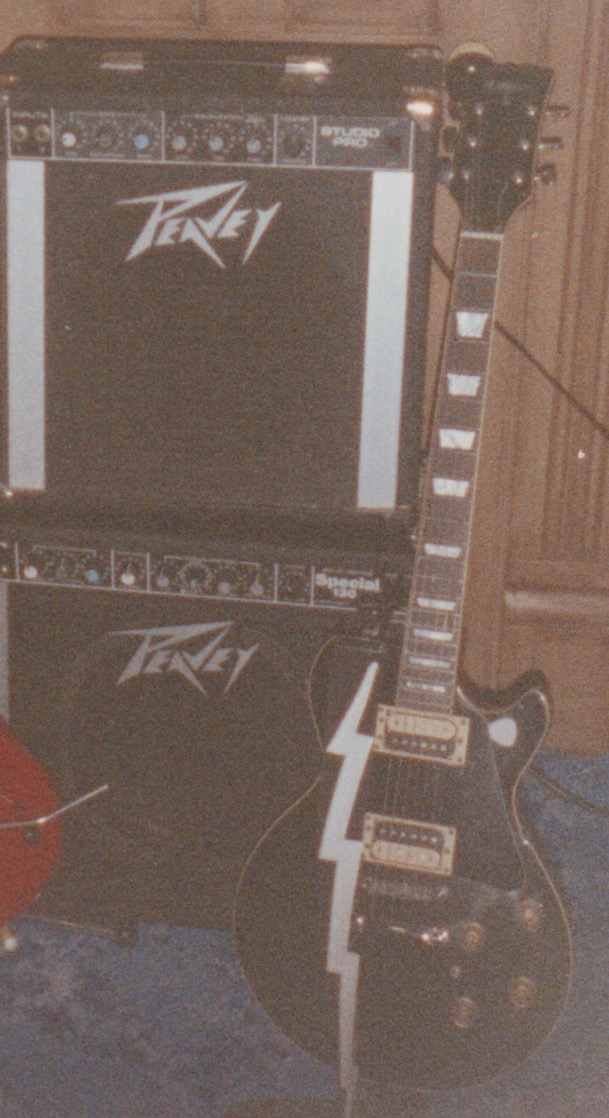 My first guitar. I think I was going for sort of a Peavey stack for the upcoming stadium tour. The studio pro on top is the first amp. My grandma gave me the lightning bolt strap for Christmas! Also, a nice place to keep a pick… under the pick guard. Ahead of my time.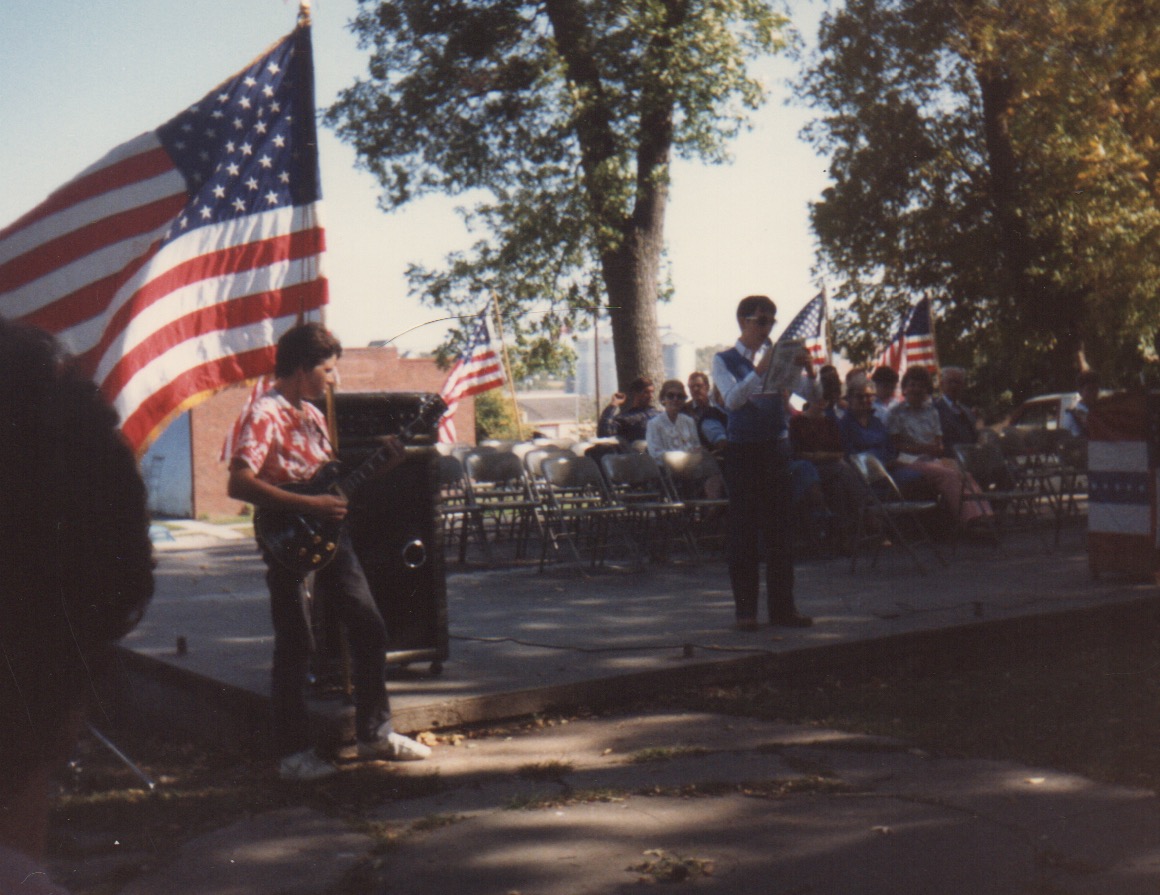 My first actual performance with the guitar. This is, I believe, the "constitutional rap" as done by our class. That's MC Stephen Walkup blowing mad rhymes about our bill of rights. Hard to see (other than the shirt!), but I'm playing that guitar. Actually, I don't think you could even consider it playing. I was more making slide-y noises to punctuate the beliefs of our forefathers. You gotta fight.. for your right… God Bless America!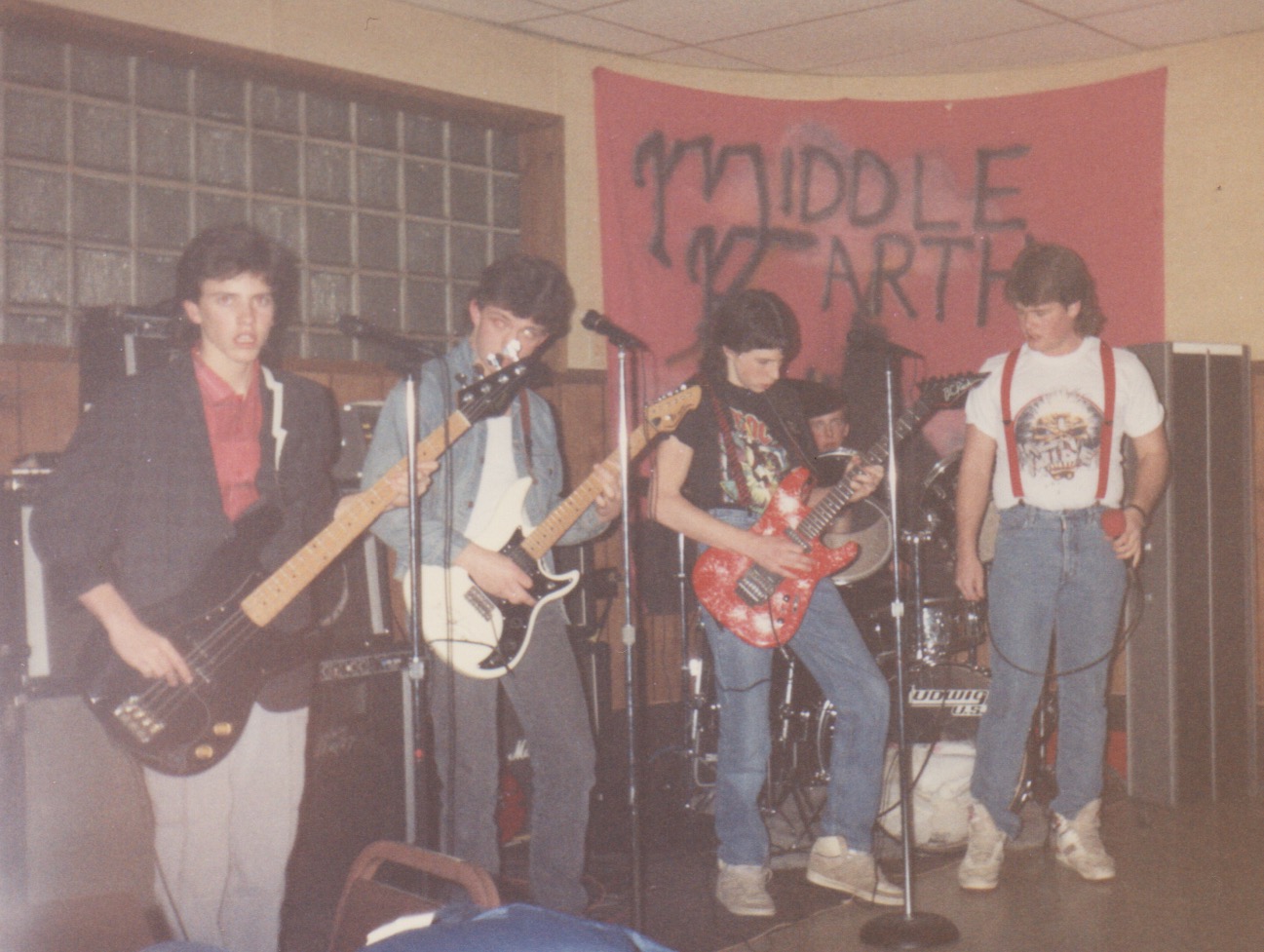 This is one of our first real gigs. Middle Earth is… Ed Daniels, Joseph Heard, Jason Riley, Michael Logan and Christopher Jones. Northside Saloon in Tarkio MO. I was probably 15. By then you can see we are up to a WALL of Peavey amps behind us. My cousin, Eric made that banner for us. Pretty nice! We had to play "Old time rock n roll", some Alabama songs and all the Skynryd we could manage.