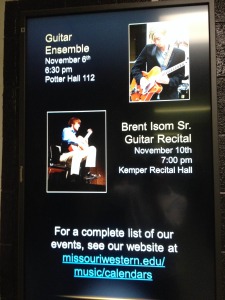 When I'm not rocking, I love teaching! I've been lucky to have some great students over the years out of my private studio, from Benedictine College and from MWSU.
We've got some great ones now! We're having our fall guitar recital at Missouri Western State University this Thursday, Nov. 6. Potter Fine arts bldg. room 112 at 630. 1st grade to graduating guitar majors and the MWSU guitar ensemble will all perform. Maybe, we'll even jam at the end.
For more info on my teaching visit…
http://www.jasonriley.com/teaching/
See you there!