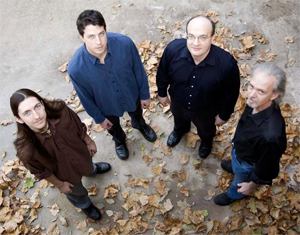 The Nova Project, founded by Anthony Glise, has one simple goal: to combine different musical and historical styles into traditional classical music. Each recording (and many concerts) include internationally-recognized guest artists with various musical backgrounds including classical, rock, jazz and ethnic influences.
The concerts being presented this season represent a scaled-down version of the up-coming fall U.S. tour & spring European tour of The Nova Project.
Upcoming CD releases from the The Nova Project include "The Viennese Sketches" and "The Holy Sonnets"
Jason has performed with The Nova Project since the fall of 2002 and is participating in the upcoming U.S. and European tours.
Recordings
The Band
Anthony Glise – Classical Guitar/Vocals
Jason Riley – Electric Guitar
James Kew – 6-string Electric Cello
Nick Baker – Percussion
Connect with The Nova Project
Website: www.AnthonyGlise.com/NovaProject