With the recent run of The Nova Project, the Classical Prog crew garnered a few new fans, a few collectible photos, some very nice press coverage and we shot a few videos. Thanks to the great entertainment writer's and staff at St. Joe Live for a very fun and high quality shoot.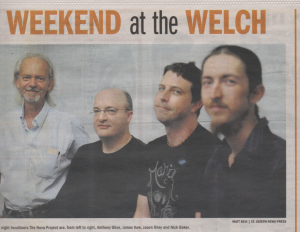 The only stipulations… it's got to be totally acoustic and it must rock at full velocity for the length and breadth of the digital format (about 5 minutes). You got it! Check out Nick's Dumbek (that's the Middle Eastern Drum he's playing). The rest of that stuff is a cello and some guitars, I think.
They'll be slow leaking these on Wednesdays over the month of September. Just follow the links below and you'll be…
…jamming on "Oh, My Black Soul"
…or researching meta-physical poets in this "Interview".
…or quieting down with a "Lullaby".
… or exploring natural waterways with "Sur Les Fontaines et les Riveieres".
… maybe Apprenticing the Sorcerer with "Fantasia".
…or searching for the ends of the world with "At the Rounded Earth's Imagined Corners".
Enjoy!