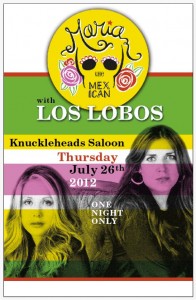 The newly manifested Mariachi and Southwestern Rock cooperative, Maria the Mexican performed with legendary Latin Rockers, Los Lobos this summer. Pretty cool for only the second show for our brand new band.
Maria, Tess and Garrett got to do a little meet and greet (shown here with David Hidalgo and Cesar Rosas of Los Lobos) and the girls were invited up to set in on the evening's final all-star jam which also included friends of the show, Making Movies

Check out an edited montage of the final "con junto" as the border war confederation works tunes like Los Lobos' classic "Emily", The Rascal's "Good Love" and you guessed it… "La Bamba"! "Todo el Mundo!"
Maria The Mexican joins Austin TX based Del Castillo Friday, Sept. 14 to celebrate Mexican Independence Day at Knucklehead's KC.