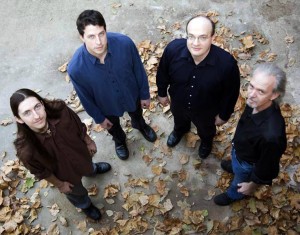 … Labor Day weekend at Phil Welch Stadium as part of the third-annual Joestock music festival. With a diverse and varied cast of musical characters, the festival includes international, national, regional and local musical acts with strong ties to Northwest Missouri.
Joestock headliners, The Nova Project will perform on Friday Aug. 31. The Nova Project is the classical-prog love child of guitarist and composer, Anthony Glise (friend of the show). Mr. Glise is one of the world's most recognized classical guitarists, and The Nova Project has built a strong European following through a couple of tours with violinist, Ken Sugita. Ken! I've been working with Anthony non-stop for about 10 years. He writes incredible, crazy music and he's introduced us to a ton of incredible, crazy people.
"We're not stuck in a rut of having a certain genre or certain age limit. We really wanted to get a good cross sample of what's out there," quoth Bob Schultz of the organizing St. Joseph Musician's Foundation.
Nova's presentation is classical and electric guitars, 8-string electric cello, drums and a combination of progressive rock, jazz, pop, classical and world music.
"It's the personification of eclectic," Mr. Shultz said. We like that.
The St. Joseph Music Foundation also will induct jazz saxophonist Charlie Parker, ragtime pianist and composer Scott Joplin, patriotic singer-songwriter Britt Small and longtime St. Joseph venue The Frog Hop Ballroom into the Missouri Music Hall of Fame during ceremonies spanning the weekend. We like that too!
Camping and vending opportunities are available. Contact the Music Foundation at 676-1112 for more information.
Joestock kicks off at 5 p.m. Aug. 31 and concludes the evening of Sept. 2.
For a recent story…
Click me
For a classic video…