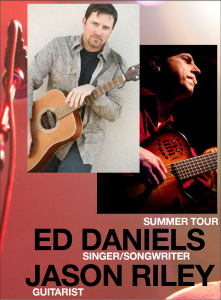 … Unplugged and Unbridled in our hometown of Tarkio, MO. The Wildhorse Saloon will host some homeboys Wednesday night, June 20 for an intimate evening of bare-back, heart-breaking, poetic odes of original and cover music from now Las VegasSinger/Songwriter, Ed Daniels. Ed is my first and best friend, logging innumerable hours molding me into the amigo I am today.
It started something like this in Mrs. McCall's Kindergarten class…
"Hi I'm Eddie, what's your name? Do you want to play with us?" But what I heard was…
"Excuse me, I can tell that like me… you were born to rock. Let me show you the way." It's one of those moments that change the course of your whole life. So I said…
"My name is Jason P. Riley. I think paste is delicious. Let's rock that boat over there until we tip it over."
Last time time we got together we played and reminisced our way from KC to Nashville and back to the place where we learned about brotherhood, uncommon integrity, rockin' boats, eatin' paste and the golden rule. Thank you, Mrs. McCall.
Can't wait. The show's around 7. BYOP (Bring your own paste)